Did you know that August 18th is National Fajita Day? That's right: the third Monday in August will be a time for appreciating fajitas—that quintessential, almost-always-served-sizzling Tex-Mex favorite. We're already getting our grill pans ready, folks!
Why have a day devoted solely to celebrating fajitas? Well, we can't really speak for anyone else, but here's the 411 on why we love them so much:
Fajitas are Highly Customizable
The word "fajita" specifically refers to small bits of meat cut from larger pieces of skirt steak; traditionally, fajitas are made to showcase that particular protein. Nowadays, however, the term can mean any kind of grilled meat (or vegetable medley) served on top of a corn or flour tortilla. They're a bit like open-faced tacos in that regard.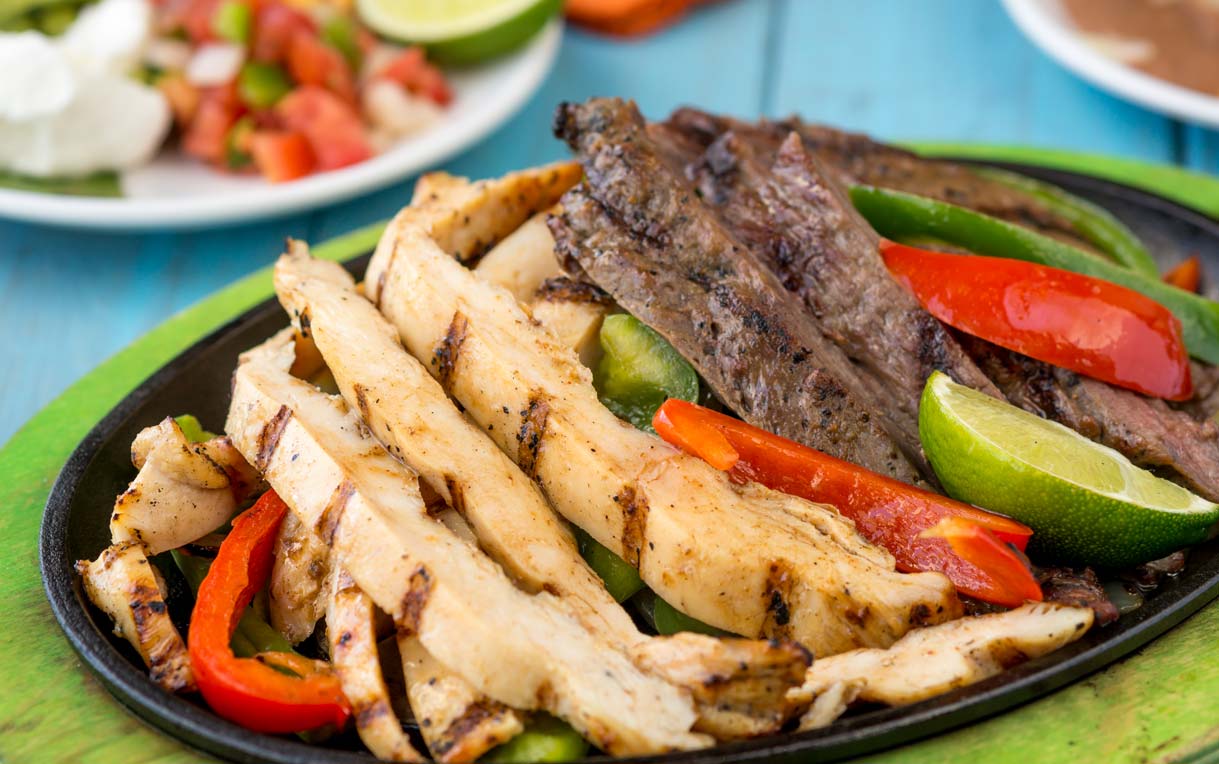 Most restaurants that have fajitas on their menu offer a choice of beef, chicken, or vegetables (including mushrooms, carrots, and or/zucchini) as their primary filling. Peppers and onions are usually served alongside the protein to give the filling some extra "oomph," and many people also like to top theirs with sour cream, cheese, pico de gallo, or guacamole. The possibilities for customization are practically endless, so if someone says that they "don't like" fajitas, then chances are, they just haven't found the right combination of ingredients yet.
Fajitas are Easy to Make at Home
A lot of home cooks are intimidated by the prospect of making Tex-Mex staples at home, but the good news is that fajitas are a great dish to attempt in order to hone your skills. And if you're already an accomplished home chef, then so much for the better; you can whip up a plate of fajitas to fill your family members' bellies or impress a dinner date.
As we said in the previous section, skirt steak is the traditional cut of meat for this dish. Grocery store meat departments will often have pre-sliced packages of skirt steak out with the rest of the beef, and they'll sometimes even have the word "fajita" printed somewhere on the label. So convenient! If you can't find skirt steak, don't be afraid to ask someone at the meat counter for help—the butcher on duty will probably even slice it up for you if you ask nicely. And, of course, if you'd rather use a different cut of beef or a different protein entirely, that's fine, too.
When it comes to actually grilling the fajitas, it's hard to beat a screaming hot cast iron pan to really make the protein sizzle (and make your whole house smell amazing). A regular frying pan will suffice, though, if you're not ready to commit to cast iron. Some people like to cook the meat and then slice it, while others prefer to cut the meat while it's raw and then cook it. Both techniques work, but if you're using skirt or (flank) steak, it's absolutely critical that you slice the meat against the grain. Otherwise, you'll turn a beautiful cut of beef into a tough, overly chewy abomination. You'll want to season or marinade the meat before cooking, as well; different recipes can readily be found online.
One more tip: instead of trying to cook the vegetables and meat at the same time, heat them separately. Not only will this enable you to cook the meat to a safe temperature without overcooking the vegetables, but it will allow your dining companion(s) to decide whether they want just meat, just vegetables, or a combination of both on their plate.
Fajitas are Great for Summer Barbecues
Technically, the summer of 2018 is nearly over. But this is Texas, which means that the weather may very well be perfect for outdoor cooking for a few more weeks—or months. Regardless of when you choose to have your cookout, though, you might consider adding fajitas to the menu.
As we've said before on this blog, fajitas lend themselves well to backyard prep because the meat (and vegetables) can very easily be cooked on a grill. Their customizable nature also means that they lend themselves well to buffet-style serving; the kids can load theirs up with sour cream and cheese while adults focus more on vegetables and pico de gallo. Add some chips and guacamole as appetizers, and you've got a practically guaranteed crowd-pleaser on your hands.
Fajitas are a Mainstay at Tex-Mex Restaurants
On this blog, we try not to be overly critical of other restaurants. We know that we're the best in the Metroplex, of course, but nobody likes a braggart. That said, if you ever walk into a self-proclaimed Tex-Mex restaurant and they don't have fajitas on the menu, you should leave immediately. Full stop. Pay for whatever beverage you've already ordered (and take a few more bites of complimentary chips and salsa for your troubles) and then get out of there.
Why? Because fajitas are such a quintessential part of Tex-Mex cooking that any restaurant that doesn't have them should be viewed with suspicion. How can an establishment call itself a Tex-Mex restaurant and not serve fajitas?! It's like a pan-Asian eatery not having fried rice on the menu, or an Italian diner being sans spaghetti. If there are no fajitas to be found, then something weird is going on at that place, and you don't need to be involved in such nonsense!
Needless to say, at Mattito's, fajitas are always available. More than one kind of fajita, actually—and you can even get them with our gluten-free tortillas. We understand that fajitas aren't everyone's cup of tea, and that's fine; some folks are simply die-hard fans of enchiladas or tacos. But the point is that we've got fajitas for anyone who wants them!
When Monday, August 18th rolls around, you can bet your bottom dollar that we'll be observing National Fajita Day. The question is: will you be joining us? Whether you choose to make fajitas at home or swing by your local Mattito's location for dinner, please don't miss out on your opportunity to celebrate this simple but very savory dish!