If you love to cook Tex Mex in your home, there are certain tools you're going to need. If you already have them, great! If not, put them on your holiday gift list and ask that they be placed under the tree.
Below are six Tex Mex cooking tools we feel you shouldn't live without.
To make your own tortillas, you'll need a tortilla press (tortillero). Once only made of wood and now also made of cast iron, the press is made of two large round blocks or plates in which you place the ball of tortilla dough you made to press out the tortillas.
Looking to make foam in your cup filled with hot chocolate? You'll need a molinillo, which is a whisk or stirring stick made of wood. Place the molinillo into your cup of hot chocolate and spin it between your hands. Many molinillos are decorated. (You can view one here.)
Salsa and guacamole dips always should be served in molcajete These are small three-legged bowls (the legs tend to be short and stumpy and the bowl shallow and round). Many restaurants serve salsa in cast-iron molcajete bowls, but you can purchase them in less-expensive melamine (a plastic that can be made to look like cast iron), as well.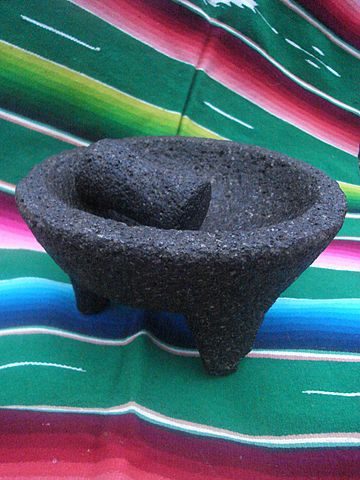 A molcajete bowl.
If you want to roast vegetables and chilis (or warm your tortillas), you can use a comal, which is a round, large griddle most often made of cast iron, aluminum or even clay. While most comals are about the size of plate, some can be as large as two feet in diameter.
Fajitas you make at home should be served in a fajita skillet or platter. Most are made of cast iron and a typical skillet is 6 or 10 inches in diameter. As for fajita platters, they often are made of stainless steel and can be round or oval in shape.
If you want to keep your tortillas warm after making, place them in a tortilla server. Traditionally made of clay, they most often now are made of plastic, polypropylene or even microwaveable plastic.
If you love Tex Mex cuisine but just don't want to cook it yourself, Mattito's is here for you. Visit one of our locations soon for some of the best Tex Mex food in Dallas!
"Molcajete". Licensed under CC BY-SA 3.0 via Common